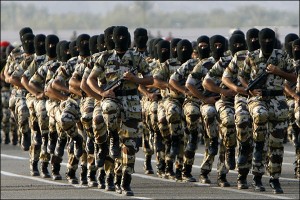 Dozens of officers in the German federal police have been involved in training Saudi Arabian security forces in how to search and occupy houses and deal with protests and uprisings, according to an investigative report by the television news magazine Fakt.
The report, aired Monday on public broadcaster ARD, quotes classified documents, unnamed German police officers and people involved in the training as saying their mission goes beyond the official description by the government to train in border security.
In March, Saudi forces entered neighboring Bahrain to support the Sunni-led regime, which was facing massive protests by majority Shiites. The troops violently suppressed the protests and dozens were killed.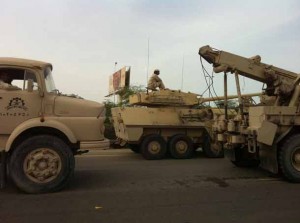 "It was clear in March at the demonstrations that protesters were shot," an unnamed German police trainer said in the report. "You don't want to imagine what happens when these units trained by German police go ahead in their own country."
In a statement e-mailed to Deutsche Welle, the Interior Ministry said it could not explicitly confirm the report and that training by German federal police in Saudi Arabia was for border observation and "leadership and decision-making processes." It said the training courses do not serve to prepare police for protests, and that "human rights and the fundamentals of the rule of law" are included.
EADS defense contract

Fakt had previously reported in April that the German mission in Saudi Arabia was an essential part of a contract between the Saudis and the European defense firm EADS to improve border security.
EADS was hired to provide infrared cameras, laser sensors and ground radar along Saudi borders. The report said the Saudis had specifically requested German police trainers, and that EADS paid honorariums to the trainers, while their base salary came from the Interior Ministry.
The federal police union has confirmed that German police officers were cooperating with EADS at a training camp in Saudi Arabia. Missions of at least 25 German police officers have reportedly traveled to Saudi Arabia for three months at a time to take part in the training.
The Interior Ministry said in its statement that the federal police mission in Saudi Arabia was not on behalf of EADS, and that employees were paid through the German development organization GIZ.
Criticism from opposition
The involvement of German police in Saudi Arabia has from the beginning drawn heavy criticism from the political opposition and within the ranks of the German police force.
Green party politician Wolfgang Wieland said the German mission in Saudi Arabia should be abolished.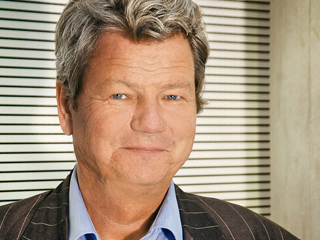 "Here, police are being trained in a dictatorship, in a backward regime," he said. "That cannot be. A democracy like Germany is not allowed to do that."
Jörg Radek, deputy chairman of the Trade Union of the Police, agreed. He said whether German police were training in border security or in dealing with protesters, they had no place in a country like Saudi Arabia.
"When this mission supports the unjust system in Saudi Arabia, that's the point at which you have to say German police must withdraw," he said.
Parliamentary review
The mission in Saudi Arabia has been reviewed by parliament, and is currently under another review requested by The Left party.
Reports last month said Interior Minister Hans-Peter Friedrich, who took over the position in March after his predecessor Thomas de Maiziere became defense minister, was surprised by the mission and was looking into it.
Armin Schuster, a parliamentarian in the ruling center-right Christian Democratic Union, defended the project in Saudi Arabia. He said while he understood objections to working there, Germany could not limit its cooperation exclusively to countries with identical values of law and justice.
"If you want to cooperate with a country on fighting terrorism, then you have to invest there," he said. "For me it's a principle of 'You scratch my back, I'll scratch yours.'"
By Andrew Bowen