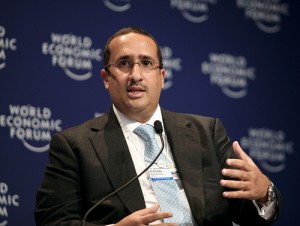 The unrest engulfing Egypt caught business and political leaders at the World Economic Forum off guard, but it became the hottest topic among the Arab elite here. Most of those leaders tuned in to the dramatic events using iPads and BlackBerrys and huddled to debate how the uprising would affect the rest of the Arab world.
"It's all anyone's talking about," said Sheik Mohammed bin Essa al-Khalifa, who leads Bahrain's economic development board and took part in many of the discussions.
For the most part, the consensus was that President Hosni Mubarak would not easily relinquish his authoritarian grip in Egypt, an outcome that became more evident as he named Omar Suleiman, the country's intelligence chief and a close ally, as his vice president on Saturday.
But the drive for change from tens of thousands of protesters means that a near monarchical regime cloaked in democracy will inevitably end, Arab executives here concluded.
"People are saying that Gamal Mubarak doesn't have a chance of succeeding his father," said a business executive who insisted on anonymity, referring to Mr. Mubarak's son. "It's a matter of when it will end, not if."
The events in Egypt were hardly mentioned during the official programs at the Davos forum, although a few leaders issued brief statements of concern before turning to other topics.
Few of the executives present expected a revolution to spread across the oil-rich nations of the Gulf, where the governments are monarchies, which often do not create the types of expectations that accompany a democracy.
Rulers in these countries use their oil wealth to invest in social stability by ensuring that their own people lead comfortable lives through subsidies on things like electricity, education and food.
"Saudi Arabia and the Gulf countries are going to be spared because they are not democratic regimes," said Jamal Khashoggi, the general manager of Al Waleed 24 News Channel. People in those countries "don't feel cheated because there are no elections," he said.
By contrast, he said, "I can feel the agony of an Egyptian when he sees how democracy is mocked."
On Thursday, the Saudi prince Turki al-Faisal al-Saud had this answer when asked whether a wave of democracy across the Middle East might be even more destabilizing than a nuclear Iran: "I don't know; in Saudi Arabia, we have neither nuclear weapons nor democracy."
One question mark, some Arab executives said, may be Bahrain, the smallest economy in the region and a developing democracy.
Bahrain lacks the abundant oil wealth of many of its neighbors, and has moved to diversify its economy, invest heavily in education and create an unemployment safety net, the only one in the region. Shiites outnumber the Sunni population, which lost control of Parliament in elections last October.
For some, however, the situation is not comfortable enough.
"People think that we should follow this nanny state mentality of the government subsidizing everything," Sheik Mohammed said. He noted that Kuwait had just paid $3,000 to every Kuwaiti citizen to celebrate the 50th anniversary of the country's independence.
Referring to people in Bahrain, he said: "They don't want to let go of electricity subsidies or other subsidies. But those who benefit most are members of Parliament, the business community, decision makers and to some extent, the press, which comes out against reforms."
Instead, his country is funneling former subsidy money toward advanced education and the creation of jobs — one of the most important ingredients for social stability in the Arab world, where vast numbers of young people in particular are hampered by soaring levels of unemployment.
"What counts is jobs," Sheik Mohammed said. "This is not just a problem in the Arab world; it's a global issue that's hitting the United States and Europe, too."