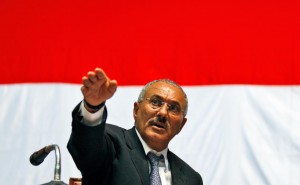 Yemen's embattled president on Sunday sought a way out of the political crisis gripping his impoverished Arab nation, offering to oversee a dialogue between his ruling party and the opposition to defuse the ongoing standoff with protesters demanding his ouster.
The offer by the U.S.-backed Ali Abdullah Saleh came as protests demanding that he step down continued for the 11th straight day, with 3,000 university students demonstrating Sunday at Sanaa, the Yemeni capital.
The protests pose the most serious challenge to Saleh's rule to date.
He has already made a series of concessions, pledging that his son would not succeed him and that he would not seek another term in office. On Sunday, he repeated his offer for negotiations.
"Dialogue is the best means, not sabotage or cutting off roads," Saleh, in office for more than 30 years, told a news conference. "I am ready to sit on the negotiating table and meet their demands if they are legitimate," said the Yemeni leader, who warned against "infiltrators" seeking to divide Yemenis and sabotage their country.
Saleh's rule continues to show signs of resilience in the face of the sustained protests, that have seen security forces and regime supporters battling demonstrators, mostly university students.
The Yemeni regime, however, is not doing as well in the south of the country, where resentment of Saleh's rule is far more entrenched and a secessionist movement is steadily gaining strength.
There have been deadly clashes there between protesters and security forces using live ammunition, rubber bullets and tear gas. South Yemen used to be an independent nation, but became united with the north in 1990. An attempt to secede by the south in 1994 was brutally crushed by Saleh's army and allied tribesmen.
Yemen is a tribal society where almost every adult male has a firearm. A decision by the country's major tribes to take sides in the standoff between Saleh and his critics could decide the president's fate.
On Saturday, riot police fired on marchers in Sanaa, killing one and wounding five.
A total of seven people have been killed since the unrest began.
The protesters seek to oust Saleh, a key U.S. ally in the fight against al-Qaida, and have been inspired by uprisings in Egypt and Tunisia.
Marching students on Sunday chanted and carried signs reading "Get out Ali for the sake of future generations." Riot police watched the march but did not intervene.
Past protests were often attacked by government supporters, degenerating into riots.
Saleh's regime is one of several in the Arab world currently coming under popular pressure to reform or step down. Since uprisings in Tunisia and Egypt toppled the two nation's autocratic leaders, Bahrain, Jordan, Yemen, Libya and Algeria have been gripped by anti-government protests.