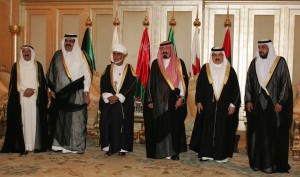 The Gulf Co-operation Council could be turning itself into the club of Arab monarchies as it considers bringing Jordan and Morocco into its fold, a move that would strengthen the political and economic capacity of the two countries' leaders to fend off any popular challenge.
In a surprise announcement late on Tuesday, the GCC, which joins six oil-producing Gulf Arab states, said it was considering a request by Morocco and Jordan to join the bloc, even though the two poorer countries have little in common with existing members.
Following a GCC summit in Riyadh, Abdullatif al-Zayani, the secretary-general, said foreign ministers would be holding talks with the two non-Gulf countries to complete the procedures required for membership. It is not yet clear if membership will be granted or in what form.
The GCC was formed in 1981 in the wake of the Iranian revolution as an alliance of oil-producing monarchies, including Saudi Arabia, Qatar, the United Arab Emirates, Bahrain, Kuwait and Oman.
Efforts at economic integration have been only partly successful, undermined by rivalries and political divisions.
As republics dominated by family rule have proved most vulnerable to popular revolts this year, however, the GCC has been asserting itself, closing ranks to protect its members from the changes sweeping the region. GCC troops were sent to Bahrain to support the ruling Sunni family, helping it crush a Shia uprising. Meanwhile, the organisation pledged $20bn in financial aid to Bahrain and Oman, another Gulf monarchy that was hit by protests.
Saudi Arabia, the heavyweight in the GCC, has also been dismayed by the willingness of the US to abandon long-time allies such as Egypt's Hosni Mubarak, who was ousted this year, and to criticise a Bahraini intervention, which Riyadh insists was needed to counter Iranian meddling.
Diplomats say GCC states have been sending the message that no Gulf ruling family will be allowed to fall – nor will Iran, which is seen as the biggest regional threat, be permitted to take advantage of the unrest in the region.
Khalid al-Khalifa, Bahrain's foreign minister, said on Twitter that Jordan and Morocco were "clear examples of good, wise governance and real political development". The GCC, he added, had "a vital interest in joining together with them".
Mustafa Hamarneh, a Jordanian political analyst, said the GCC move was a sign that Jordan belonged to the "conservative monarchy club". What all the countries had in common, he said, was that "they see eye to eye on all the main issue: on Iran, on Bahrain and on the question of political reforms".
Membership in the GCC would be a boost for the Jordanian monarchy, if it went ahead, but would prove a setback for groups seeking reform, he added.
Hassan al-Mostafa, a Saudi writer, said the possible integration of the two countries into the GCC was an attempt to "reshape the region" by creating new alliances at a time when a democratically elected Egyptian government was likely to follow a more independent foreign policy, possibly becoming friendlier with Tehran.
"The GCC will also help Jordan and Morocco to avoid pressure or collapse of these regimes," he said. "But Moroccans and Jordanians are more politically active and won't accept the GCC dictating foreign policy."
Dris Ben Ali, a Moroccan economist who has been advocating political reforms, said he was concerned about the political rationale behind a potential membership in the GCC, which might be aimed at halting Morocco's move towards a "democratic, parliamentary monarchy" that could become a model for others in the region.