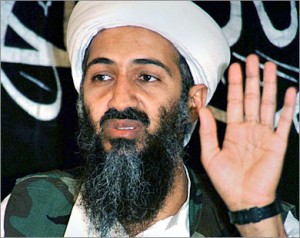 Al Qaeda leader Osama bin Laden was killed in a firefight with U.S. forces in Pakistan on Sunday, President Barack Obama announced.
Here are some details on Al Qaeda's main affiliate groups in the Arabian peninsula, Iraq and North Africa.
* AL QAEDA IN THE ARABIAN PENINSULA (AQAP)
— Al Qaeda's Yemeni and Saudi wings merged in 2009 into a new group, al Qaeda in the Arabian Peninsula (AQAP), based in Yemen. They announced this three years after a counter-terrorism drive halted an al Qaeda campaign in Saudi Arabia.
— AQAP's Yemeni leader, Nasser al-Wahayshi, was once a close associate of al Qaeda leader Osama bin Laden, whose father was born in Yemen, a neighbor of top oil exporter Saudi Arabia.
— Yemen's foreign minister has said 300 AQAP militants might be in the country.
— Nearly a year before the September 11, 2001 attacks, al Qaeda bombed the USS Cole warship in October 2000 when it was docked in the southern Yemen port of Aden, killing 17 U.S. sailors.
— AQAP claimed responsibility for an attempt to bomb a U.S.-bound airliner on December 25, 2009, and said it provided the explosive device used in the failed attack. The suspected bomber, a young Nigerian man, Umar Farouk Abdulmutallab, had visited Yemen and been in contact with militants there.
— AQAP staged several attacks in Yemen in 2010, among them a suicide bombing in April aimed at the British ambassador, who was not injured.
— The group also claimed responsibility for a foiled plot to send two air freight packages containing bombs to the United States in October 2010. The bombs were found on planes in Britain and Dubai. Last November AQAP vowed to "bleed" U.S. resources with small-scale attacks that are inexpensive but cost billions for the West to guard against.
* AL QAEDA IN THE ISLAMIC MAGHREB (AQIM)
— Led by Algerian militant Abdelmalek Droukdel, AQIM burst onto the public stage in January 2007, a product of the rebranding of fighters previously known as Algeria's Salafist Group for Preaching and Combat (GSPC).
— The Salafists had waged war against Algeria's security forces but in late 2006 they sought to adopt a broader jihadi ideology by allying themselves with al Qaeda.
— AQIM scored initial high-profile successes with attacks on the government, security services and the United Nations office in Algiers in 2007. Since 2008, attacks have tailed off as security forces broke up AQIM cells in Algeria.
— Although concrete intelligence is scant, analysts say there are a few hundred fighters who operate in the vast desert region of northeastern Mauritania, and northern Mali and Niger. AQIM's most high-profile activity is the kidnapping of Westerners, many of whom have been ransomed for large sums.
— AQIM has claimed responsibility for the abduction of two Frenchmen found dead after a failed rescue attempt in Niger last January and it is also holding other French nationals kidnapped in Niger in September 2010. A tape, released on Islamist forums late last month, showed pictures of each of the hostages.
* AL QAEDA IN IRAQ (AQI):
— The group was founded in October 2004 when Jordanian militant Abu Musab al-Zarqawi pledged his faith to Osama bin Laden and al Qaeda.
— An Egyptian called Abu Ayyab al-Masri but also known as Abu Hamza al-Muhajir is said to have assumed the leadership of al Qaeda in Iraq after Zarqawi was killed in 2006.
— In October 2006, the al Qaeda-led Mujahideen Shura Council said it had set up the Islamic State of Iraq (ISI), an umbrella group of Sunni militant affiliates and tribal leaders led by Abu Omar al-Baghdadi. In April 2007 it named a 10-man "cabinet," including Masri as its war minister.
— Fewer foreign volunteers have made it into Iraq to fight with al Qaeda against the U.S.-backed government but the group has switched to fewer albeit more deadly attacks.
— Militants linked to al Qaeda claimed bombings in Baghdad on December 8, 2009 near a courthouse, a judge training center, a Finance Ministry building and a police checkpoint in southern Baghdad. At least 112 people were killed and hundreds wounded. — On April 18, 2010 Abu Ayyub al-Masri and Abu Omar al-Baghdadi were killed in a raid in a rural area northwest of Baghdad by Iraqi and U.S. forces.
— A month later the ISI said its governing council had selected Abu Baker al-Baghdadi al-Husseini al-Qurashi as its caliph, or head, and Abu Abdullah al-Hassani al-Qurashi as his deputy and first minister, replacing al-Baghdadi and al-Masri.
— Last October gunmen linked to the Iraqi al Qaeda group seized hostages at a Catholic church in Baghdad during Sunday mass. Around 52 hostages and police were killed in the incident, which ended when security forces raided the church to free around 100 Iraqi Catholic hostages.