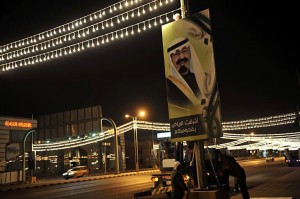 More than 100 Saudi academics, activists and businessmen have called for major reforms including the establishment of a "constitutional monarchy" in the kingdom, in an Internet statement on Sunday.
"We will submit these requests to King Abdullah at a later stage," said Khaled al-Dakhil, a political science professor at the King Saud University and one of the 132 signatories of the petition.
"We have high hopes that these reforms will be implemented," Dakhil told AFP. "Now is the time."
The petition posted on the Internet calls for the election rather than appointment of a Shura consultative council, and the creation of a constitutional monarchy — a demand that led to the arrest of activists in 2003-2004.
It also calls for expanded female participation in social and political life in the oil-rich Gulf country.
Saudi Arabia controls one-quarter of the world's oil reserves, but unemployment among the conservative kingdom's youth stands at 10 percent and women are largely kept out of the workforce.
Despite warnings by a senior member of the Saudi royal family, Prince Talal bin Abdul-Aziz Al-Saud, that "anything could happen" in the kingdom unless it speeded up reforms, the ageing monarchy has been slow in introducing reforms.
Another petition from journalists, lawyers and activists, labelling themselves as the "youth", also addressed King Abdullah on Wednesday, urging him to introduce reforms.
The group demanded reducing the average number of members of the consultative council and the cabinet to 45, and 40 respectively, and allowing women to be present in both.
Saudi Arabia held landmark municipal elections in 2005, allowing citizens to choose half the members of their local councils. Women were however banned from participating.
But in 2009, the government extended the tenure of existing municipal councils by two years.
Meanwhile, two appeals for a "Day of Rage" in Saudi Arabia on March 11 have been posted on Facebook urging political, social and economic reforms in the kingdom. One had 12,600 fans by Sunday night.
Another Facebook page calls for a "Saudi revolution" on March 20, following in the steps of cyber-activists who led uprisings in Tunisia and Egypt that ousted their respective presidents Zine El Abidine Ben Ali and Hosni Mubarak of Egypt, the latter a close ally of Riyadh.
The revolts have also spilled over into Yemen, Bahrain and Oman.
In an apparent bid to keep his citizens happy, King Abdullah last week announced a boost in social benefits for Saudis, including a 15-percent pay rise for state employees and an increase in cash available for housing loans.
The package, worth an estimated $36 billion (26 billion euros), is mostly aimed at the youth, civil servants and the unemployed and comes as uprisings against ruling regimes spread across the Arab world.