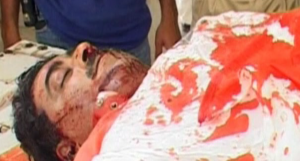 Motorcycle-riding assassins have gunned down a Saudi diplomat in the Pakistani city of Karachi, four days after a grenade attack on the Saudi consulate there.
The unusual spate of attacks raised questions about whether they were in reprisal for the death of Saudi-born Osama bin Laden or the consequence of regional Sunni-Shia tensions triggered by upheaval in Bahrain.
A senior police officer said the diplomat, named as Hassan al-Khatani and described as a security officer, was shot dead in his car on Monday morning by two men riding a motorbike who fired four shots from a 9mm pistol.
Television pictures showed a luxury sedan with gunshots through its windows. Police said a backup team of assailants rode alongside the killers, indicating a degree of professionalism in the hit.
On Thursday unidentified assailants threw two grenades at the front gate of the consulate, damaging the entrance but injuring nobody.
Attacks on diplomats from Saudi Arabia are rare in Pakistan, thanks to the country's close relationship with the army and the widespread reverence towards the country as the home of Islam.
"We've always had sectarian tensions but rarely an attack on a Saudi diplomat like this," said defence analyst Ayesha Siddiqa.
But decades-old Shia-Sunni tensions in Karachi have been reignited by turmoil across the Arabian sea in Bahrain, where Saudi Arabia deployed troops last March to help quell an uprising by mostly Shia demonstrators.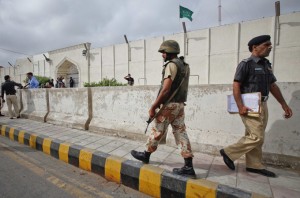 Pakistani Shias became angry when it emerged that a private security firm was urgently recruiting hundreds of former soldiers to work for the Bahrain security forces and help with the crackdown.
Newspaper advertisements sought Pakistanis with experience in "security" and "riot control".
A senior police officer in Karachi told the Guardian the Bahrain connection was considered the most likely motive for the two most recent attacks. But they were investigating whether they may have been in reprisal for the US special force raid that killed Bin Laden on 2 May.
Riyadh stripped Bin Laden of his citizenship in 1994 and has since co-operated closely with American efforts to crack down on al-Qaida, even though private Saudi citizens have been accused of sponsoring his network.
US intelligence is currently examining a trove of computer drives snatched from Bin Laden's hideout, reportedly containing 2.7 terabytes of data, for further information about al-Qaida's money pipeline.
A third possibility was that the attacks were linked to local criminal groups, the officer said. In recent years, he said, "some low-level officials at the consulate had been found to be involved in minor criminal activities with local mafias".
The difficulty of investigating the killing is underscored by the general insecurity in the sprawling port city of 16 million people, where ethnic, political and Islamist militant groups hold sway in pockets of the city that are virtually out-of-bounds to the security services.