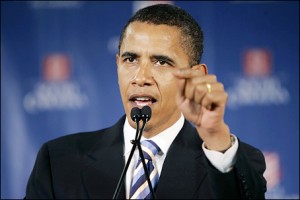 In all the Arab states Barack Obama name checked in his tour-de-force speech on Thursday night about the Arab spring, one nation was conspicuously missing - Saudi Arabia.
If State Department officials go queasy at the thought of Syria imploding, into the hands of Iran, they rush to the toilet at the thought of a Saudi uprising.
Saudi Arabia is, quite simply, too big to be allowed to fail. It is the world's biggest oil producer. A generation ago it flexed its muscles, pushed up the oil price, and threw the world into recession.
Even the Israeli-Palestinian conflict pales besides the thought of what would happen to the US economy if Saudi Arabia found itself in the hands of Islamists. The House of Saud maintains the strictest control of its subjects - it was named the seventh most authoritarian state on Earth by The Economist in 2010.
Protest, elections and political parties are all banned, along with a free press - one reason why we hear little of any Arab spring-style dissent there.
But there are protests aplenty. In January Shiites in Jeddah protested against local government corruption after several people were swept away in floods.
In February 40 women protested outside the interior ministry in Riyadh, demanding the release of men held without trial. That same month ten prominent intellectuals formed the Umma Islamic Party to campaign for freedom. Days later, all ten were jailed. More protests came in March with three Days of Rage in Shia areas in the east.
Yet despite harsh tactics by the police and grim reports from human rights groups, Mr Obama judged he simply could not affort the mildest criticism of the House of Saud, or even its use of police who crossed into Bahrain to help it crush its own Arab spring.
State Department officials privately say they are facing an impossible contradiction. The American public may support human rights, yet what if such support saw Islamic parties elected in Saudi Arabia and an oil boycott?
But as the Arab spring gains force, Mr Obama will find it harder to keep his current contradictory line - supporting pro-democracy protests in some parts of the Arab world and ignoring them in others.
By Chris Stephen