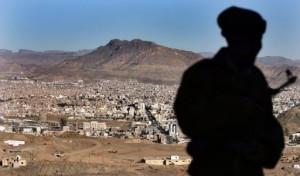 Yemeni tribesmen released on Tuesday a Saudi diplomat kidnapped last month in the capital Sanaa over a trade dispute involving a Saudi businessman, one of the mediators for his release told AFP.
"Saeed al-Maliki was released by his abductor," Abd Rabbuh Naser Ahmed al-Salimi, a member of Beni Dhabian tribe, said Mohammed Naser al-Melqati.
Maliki, second secretary at the embassy, "is now on his way to Sanaa accompanied by Qassem al-Salimi," one of Beni Dhabian's dignitaries who has led the mediation, said Melqati.
On April 23, Maliki was kidnapped and taken to a mountainous area 80 kilometres (50 miles) southeast of Sanaa.
His captor had demanded five million Saudi riyals ($1.3 million, 878,000 euros) ransom, said to be owed to him by an unidentified Saudi businessman, a tribal source had told AFP last month.
But mediators persuaded the abductor to release Maliki after they gave him assurances his "rights can be recovered through legal means," said Melqati.
The mediators had come under strong pressures by defected General Ali Mohsen al-Ahmar to release the diplomat, he added.
Ahmar, an influential military commander of the northwestern region, has sided with protesters calling for the ouster of President Ali Abdullah Saleh.
Yemen's powerful neighbour, Saudi Arabia, has been involved alongside five other rich Arab Gulf monarchies to mediate between Saleh and his opponents to end bloodshed in the impoverished country.
Foreigners have frequently been kidnapped in Yemen by tribes who use the tactic to pressure authorities into making concessions.
More than 200 foreigners have been kidnapped over the past 15 years, and most have later been freed unharmed.