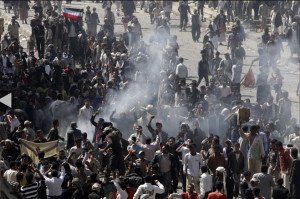 Two antigovernment protesters in Yemen's southern port of Aden died in fresh clashes Thursday, witnesses said, bringing the death toll in a recent spate of violent demonstrations against President Ali Abdullah Saleh to at least four.
In the capital San'a, thousands of protesters squared off with Saleh supporters in violent clashes at a main intersection Thursday morning and afternoon, according to witnesses.
The demonstrations in the capital were the latest and most raucous in a series of daily melees here, triggered by the resignation of Egypt's Hosni Mubarak. Opposition parties organized much larger, but peaceful, protests in San'a earlier in the month amid unrest elsewhere in the Arab world, following the January revolt in Tunisia. In response, Mr. Saleh has pledged economic and political reforms, including a promise not to run again in 2013.
Opposition leaders had called off more protests, but students and young activists have stepped into the void, organizing a series of smaller, impromptu demonstrations across town, which have drawn in crowds of armed government supporters.
Uniformed security forces weren't in the vicinity during the San'a scuffles, in which protesters tore down a median barricade between the two sides and clashed with sticks, clubs, chains and makeshift weapons, like desk legs and pipes. Occasional shots rang out from guns fired into the air, but there were no reports of fatalities.
About two thousand took up positions on either side of one of the capital's main intersections. Government supporters lobbed repeated volleys of stones, injuring dozens of protesters, many of whom retreated to a nearby hospital.
The two sides made occasional charges at each other, according to witnesses. Dumpsters and tires were set ablaze.
Pro-government demonstrators chanted "With our soul and our blood, we will sacrifice for Ali" as they clashed with opposition who shouted "The people want the regime to fall" and "After Mubarak then Ali."
In the early afternoon, most antigovernment protesters marched out of the area toward San'a University, where about 200 gathered for another rally, according to witnesses. But about 20 minutes after they arrived, government supporters, armed with sticks, clubs and pipes, charged the group, sending the protesters fleeing for the gates of the university.
Many were caught trying to get through the narrow entrance and were beaten. Others fled into side streets.
The clashes marked the seventh consecutive day of violence in the capital. After a few hours, protesters and government supporters regrouped in front of San'a University in opposing rallies, but the atmosphere was much more festive, with both sides dancing at times. It was the first time that demonstrations in the capital extended into the night.
But in Aden, a restive town home to an active secessionist movement, protests have careened on through the evening. On Wednesday, witnesses said security forces opened fire on demonstrators in the city's al Mansora neighborhood, killing two.