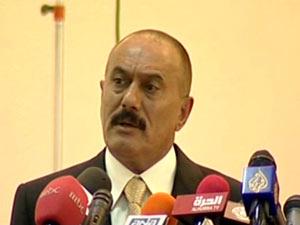 Gulf states leading mediation efforts to end a political crisis in Yemen hope to reach a deal by which embattled President Ali Abdullah Saleh would quit, Qatar's prime minister said on Thursday.
Members of the Gulf Cooperation Council "hope to reach a deal with the Yemeni president to step down," Sheikh Hamad bin Jassem al-Thani said according to QNA state news agency.
Foreign ministers of the GCC agreed Sunday to begin contacts with the Yemeni government and the opposition "with ideas to overcome the current situation".
Qatar daily Alarab said the Gulf proposal which was presented to Yemeni parties calls on Saleh to step down and pass power to an interim national council comprising tribal and key political figures.
Both sides have received invitations to hold talks in the Saudi capital Riyadh, but a date of such talks has not been disclosed.
According to medics and witnesses, about 125 people have been killed in Yemen's crackdown on protesters, who launched nationwide demonstrations in late January to unseat Saleh, in power since 1978.
The GCC groups Bahrain, Kuwait and Saudi Arabia with Oman, Qatar and the United Arab Emirates.