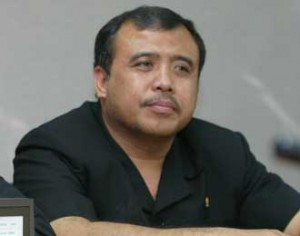 Saudi Arabia has pledged to release more than 300 Indonesians jailed in the country for various offenses, Justice and Human Rights Minister Patrialis Akbar said on Sunday.
The minister, speaking by video conference from Riyadh, said his counterpart, Muhammad bin Abdul Karim al-Issa, had agreed to the unconditional release of the prisoners following talks during his state visit.
"The Saudi government will release 316 Indonesians who are serving time in prison," he said. "But that doesn't include Indonesians who [were given] the death sentence."
The minister did not give a time frame for the release, but said the Saudi government would shoulder repatriation costs.
Patrialis was in the Arab state to seek clemency for 23 Indonesians on death row, as well as commuted sentences for 316 others serving between three and 12 years in Saudi prisons. Most of the 339 inmates went to the country as migrant workers.
Patrialis said the Saudi government had promised to consider releasing some of the inmates on death row, particularly ta'zir — those who had been formally absolved by the victims' family .
Under the Saudi legal system, ta'zir may even escape the death penalty by paying damages demanded by injured parties.
However, qishas — convicts on death row who remain unpardoned by victims' families — may still be executed.
"The Saudi government said they would consider [the option of] releasing the ta'zir inmates," Patrialis said. "We'll keep trying to get the death sentences for Indonesians here commuted."
The announcement came after negotiations among Indonesian delegates and top Saudi officials, including Deputy Interior Minister Ahmed bin Mohammad al-Salem and Zaid bin Abdul Muhsin al Husain, deputy chairman of the Saudi Human Rights Commission.
In Jakarta, Wahiduddin Adams, director general for law enforcement at the Manpower and Transmigration Ministry, welcomed the news. "We hope Indonesians mired in legal issues in Taiwan and Malaysia can also be released," he said.
He said the ministry would launch a program to teach migrant workers their legal rights and obligations abroad.