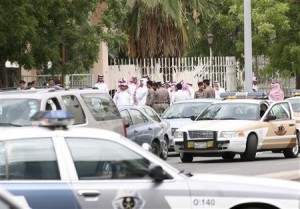 Dozens of unemployed university graduates and teachers staged rare protests in two Saudi cities on Sunday to demand jobs and better wages in the biggest Arab economy, which is struggling to reduce joblessness.
Saudi Arabia, the world's No. 1 oil exporter and a U.S. ally, is an absolute monarchy that does not tolerate public dissent. There is no elected parliament or political parties, and newspapers tend to carry the official line.
Over 20 protesters gathered outside the education ministry office in Jeddah while around 20 collected outside the ministry in the capital Riyadh, witnesses and participants said.
"God willing, I'll be here until Friday if I have to. We don't care anymore after seven years of unemployment. We have no other choice," said Omar Alharbi, a 34-year-old Arabic language teacher who took part in the Jeddah protest.
"I plan to stay here until we find a solution," he said.
The father of six now works as a teacher in a private school making only 1,800 riyals ($480) a month, below the country's unemployment handout of 2,000 riyals.
Despite its oil wealth, Saudi Arabia, which is rolling out its third straight record budget this year, is struggling to reduce unemployment which reached 10 percent in 2010.
In a move to stave off public dissent gripping much of the Arab world, King Abdullah ordered handouts exceeding $100 billion to be spent on housing, infrastructure, health care and security. It also included a 2,000 riyal unemployment benefit.
Saudis in private firms compete with foreigners who agree to work for lower wages. Teachers are offered 1,800 riyals a month in a private school for a job that pays around 9,000 riyals a month in government schools, protesters said.
Some of the protesters said they had been unemployed since 2003. They estimated the number of unemployed Saudi Arabic language teachers to exceed 10,000.
Saudi Arabia has not seen the kind of mass uprisings that have rocked the Arab world this year, but a number of protests have taken place in the Eastern Province, where most of the kingdom's oil fields are.
Almost no Saudis in major cities answered a Facebook call for protest on March 11, in the face of a massive security presence around the country.
Earlier this year, some 250 unemployed graduates gathered at the education ministry in Riyadh to demand employment and vowed to continue demonstrating until the government produces jobs.
The group later dispersed after hearing promises from ministry officials saying they will deal with their issue.
"We expect to hear promises to calm us down and disperse us but we will be back. We will be back until they find a solution," Alharbi said.