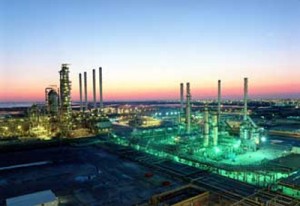 With the recent turmoil across North Africa and the Gulf, investors are now becoming increasingly concerned that the 'political contagion,' as the wave of upheaval has come to be known, may flow over into Saudi Arabia as well.
The worry is that the protests in various parts of the Arab World will embolden Saudi youths, or the minority Shiites in the east, to revolt in a similar fashion.
The country supplies about 12% of global oil production and sits on at least a fifth of the world's oil reserves.
By being on the eastern border of the Kingdom, Bahrain is near key parts of the country's crude reserves. Although doubtful that Saudi Arabia would be drawn into the contagion, "the fear factor could potentially force oil prices higher and leave the equity markets lower", Gary Dugan, CIO at Emirates NBD, told CNBC.
Using information from the Energy Information Administration (EIA) for 2009: If you take of Saudi Arabia, and add to that other major oil exporters in the region that have seen turmoil in recent days, such as OPEC members Libya and Algeria, you're looking at roughly 16% of total oil production that could be at risk. Pricing the risk premium in the current environment will prove to be a daunting guessing game for traders.
Saudi Arabia faces a problem that was a major driver of protests in Tunisia and Egypt to begin with: Youth unemployment. Data by the Central Department of Statistics & Information (CDSI) estimates that 39% of Saudis between the age of 20 and 24 were unemployed in 2009 – up from 28.5% in 2000. But in its most recent report, Saudi Banque Fransi adds that the Kingdom has an "enormous stash of oil wealth it can draw on to finance schemes to sooth popular frustrations without exerting too much strain on its budget". Saudi Arabia held an estimated $440 billion in net foreign assets in 2010.
Amid the ongoing geopolitical instability, Dugan points out that he has seen "international investors largely retreat from the MENA markets with only hedge funds opportunistically buying local bonds at low price levels." Emerging market equity funds had net outflows of $5.45 billion last week, according to EPFR.
Indeed, the political future of Saudi Arabia is far from certain. King Abdullah is 87 years old and has spent a lot of time abroad recently for treatment. The crown prince is an octogenarian as well, while the plan for succession is unclear. Angus Blair, head of research at Beltone Financial, told CNBC that "Saudi Arabia will not be excluded from the profound changes sweeping through the Arab world". He also expects to see reforms through the Shura Council, which is "likely to be awarded more powers as part of a long term program of increased devolution of power".
The cost of insuring exposure to Saudi Arabia risk for a five-year period rose 15 bps to 140 bps on Friday, according to Markit.
By Yousef Gamal El-Din