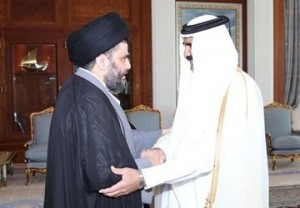 In an attempt to regain some of Al Jazeera's lost credibility, a dispute broke out between Qatar and Bahrain. Bahrain is angry that Qatar received Iran's Foreign Minister Salehi and Iraq's influential shiite leader Muqtada al-Sadr, as well as Al Jazeera's latest coverage of the events in Bahrain, which included the possible trial of the King of Bahrain in the Hague.
The Government of Bahrain has recently taken oppressive measures against its citizens by arresting of doctors and nurses, detaining MPs from Al Wefaq society, passing death sentences on some youths, destroying mosques and expelling citizens from government jobs.
It is worth noting that these repressive measures have continued since Saudi Arabia sent its troops to Bahrain. The internal political affairs of Bahrain are currently managed by Saudi Arabia, specifically the Minister of Interior Prince Nayef bin Abdul Aziz, a known hard liner who shows sever hostility towards Shiites in general.
On the other hand, Al Jazeera's coverage of  the events in Bahrain have shifted slightly. The channel is desperately trying to regain some of its lost credibility, especially after it supported the foreign military intervention in Libya.