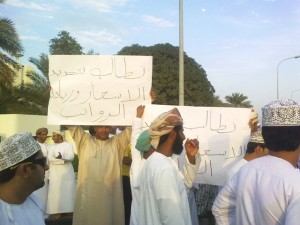 Omanis recently took part in massive demonstrations in the northern city of Sohar and were knocking on the doors of Abu Dhabi. Both Saudi Arabia and the UAE, the last dictatorial powers in the region cannot ignore democracy. The people of the Gulf are fed up with the Gulf ruling elites and have awakened from their 40 year old slumber. It's true that they're not as poor as the Egyptians or Tunisians, but they are become increasingly more aware that a country's wealth belong to the state and the state alone.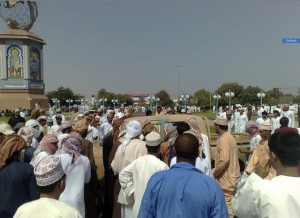 Some wikileaks documents suggest that peak oil production levels in the Gulf have already been met and that current supplies will only be sufficient for a couple more decades. These backward political regimes have lead to poor planning and corruption. The future for the youth is not so great.
Bahrain has given us a glimpse of what lies ahead in the future. Its oil reserves have diminished and its unable to change its fiscal policy or  turn itself into a modern state. For decades bahrainis have contributed towards the state but were denied any meaningful political representation by the ruling family. They were left with few options and hence took matters into their own hands. The Al Khalifa regime responded by using live ammunition and immediately unleashed their Pakistani mercenaries on the demonstrators. The regime had showed its true colours.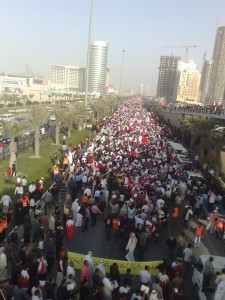 The regimes of both Saudi Arabia and UAE gave the Al Khalifa family unlimited moral support in crushing the protests by all means necessary. Both regimes tried to bribe their populations with financial incentives in order to stop the protests from spreading. The Saudi King Abdullah announced a 36 billion dollar spending program, which was promptly rejected by the protestors who felt insulted.
Saudi protestors chose the 11th of March as their day of rage, and openly called for overthrowing Al Saud's regime. Had live ammunition been used on the protestors it would have catalysed protests in the Emirates. Thousands of UAE nationals are ignored by the oil rich states of Abu Dhabi and Dubai and live in modest conditions in the poor Northern Emirates. The majority are angry at the huge economic gap in wealth between the different federations  and at being excluded from participating in major policy decisions. Some are curious why large coastal lands were sold to foreign investors.
Also, a large number of stateless people live in both the Emirates and Saudi Arabia. They were born and brought up in the country of their grandfathers, yet find it perplexing that the regime's friends nationalises Indians and westerners.