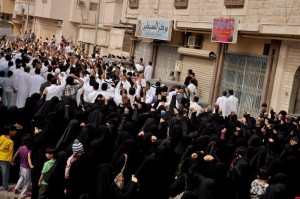 Surrounded by unrest in the Arab world, Saudi King Abdullah's focus on lavish social handouts instead of political reform is a stop-gap solution that can only hold off change in the short term, reformers say.
Although unlikely to see uprisings on the same scale as in neighboring Bahrain and Yemen, the number one oil exporter and U.S. ally cannot stay insulated from the rest of the region or the world forever, they say.
"There are some people in the government whose interests are to maintain the status quo and they use tricks to do this such as forbidding demonstrations and saying that signing petitions is unlawful in Islamic law," said Mohammed al-Qahtani, head of the Saudi Civil and Political Rights Association.
"But how long can this continue? Things are happening now and society is no longer passive. It might spiral out of control in the next few years either in terms of the power struggle among the elite or from the people themselves."
The elderly king has announced $130 billion so far this year in handouts to boost wages, raise benefits for the unemployed and build houses, while creating 60,000 security positions and giving more money to the religious police.
The government let it be known after the handouts were announced that it is organizing elections this year to half the seats on municipal councils, after the vote was delayed in 2009.
Those elections were first held in 2005 as a response to U.S. pressure on reform, but activists do not see revisiting the councils now as a much of a concession on political rights — women can not vote or run as candidates.
So the ruling family appears so far determined to continue its domination of political life.
Succession to the throne is restricted by law to sons and grandsons of founder Abdel-Aziz bin Saud. Senior princes hold the main posts in the cabinet and most of them have been in their jobs for decades.
Saudi intellectuals were likely to lead the demands for political change but they can expect a strong reaction, said a prominent Saudi journalist who requested anonymity due to the sensitive nature of the subject.
"These people will come under attack by the government and conservatives will call them 'corrupt liberals' or 'agents of the West'. That could be a spark in the political national movement of Saudi Arabia."
FACEBOOK CAMPAIGN FIZZLES

A group of Saudi web activists launched an online campaign in January calling for political reform. The Facebook campaign called for a constitutional monarchy, an end to corruption and even distribution of wealth.
In the face of consistent warnings from the government and its leading clerics, as well as a massive security presence, most Saudis have not answered calls to protest for more rights.
Demonstrations so far have been confined to the oil-producing east, where minority Shi'ites have staged a series of protests in support of Shi'ites in Bahrain and political freedoms at home. But the government can easily pass off Shi'ite protests as not reflecting the views of most Saudis.
Earlier in February dozens of unemployed graduates and teachers staged protests in the capital Riyadh and Jeddah to demand jobs and better wages in the biggest Arab economy.
"They have lulled people in the short term but in the long term Saudi Arabia's young population want their voices to be heard. They want to be active in society," said a Saudi media analyst in Riyadh. "There needs to be structural reform rather than just the same old oil in new bottles."
Under-30s account for some 60 percent of the population and most have grown up during the internet revolution. Many have a different mindset to veteran rulers and do not understand their arguments on why they do not deserve political rights.
The leading members of the Saudi royal family, most of them in their 70s and 80s, have heard it all before.
Calls for democratic rule came from Arab nationalists and leftists in the 1960s and Islamists in the 1990s. Those who have led calls in recent years for popular participation in government — through allowing elections to the advisory Shura Assembly or political parties — have been jailed.
The absolute monarchy argues that its system of government replicates the early Islamic state, fits with Gulf Arab traditions and has ensured stability.
London-based social anthropologist Madawi al-Rasheed said the state's petrodollar wealth, extensive security apparatus and obedient clerics would prevent the emergence of a reform movement with teeth that so frightens the Al Saud dynasty.
"The regime today is much stronger and the family is like an octopus, controlling every part of the country," she said.
"Twenty years ago it would have been easier for intellectuals to dream about reform. There will be no changes as long as there is money and a police state."