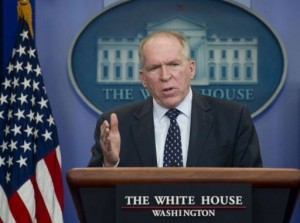 John Brennan, President Barack Obama's top counter-terrorism aide, is visiting Saudi Arabia, Sudan and the United Arab Emirates this week, the White House said Wednesday.
Brennan met Wednesday in Khartoum with Sudanese government officials to discuss the implementation of the 2005 Comprehensive Peace Agreement that ended 22 years of civil war between the north and south.
He would then travel to Saudi Arabia and the UAE to discuss "the deteriorating situation in Yemen," the White House said in a statement, adding the trip was part of consultations with the Gulf Cooperation Council (GCC).
"We strongly condemn the recent clashes in Sanaa and the deplorable use of violence by the government against peaceful demonstrators in Taiz," it added.
Gunbattles raged Wednesday on the streets of the Yemeni capital, killing 39 people, witnesses said as a truce between security forces and tribesmen collapsed.
"These tragic events underscore the need for President Saleh to sign the GCC-brokered transition proposal and to begin the transfer of power immediately," the White House said.
"That is the best way to avoid further bloodshed and for the Yemeni people to realize their aspirations for peace, reform, and prosperity.