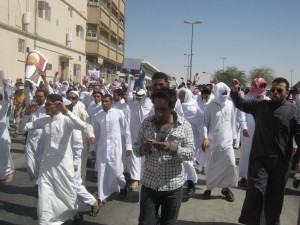 Saudi Arabian authorities released 25 Shiites arrested during protests in the Eastern Province earlier this month, according an activist.
The detainees were released yesterday, Ibrahim Al- Mugaiteeb, president of the Human Rights First Society, based in al-Khobar, Saudi Arabia, said today in a phone interview.
Shiites in al-Qatif held a demonstration on March 3, attended by about 100 people and heavily policed, to demand the release of prisoners. Another rally of a similar size took place in the eastern village of Awwamiya the same day, while on March 4, protesters in al-Hofuf demanded the release of Shiite cleric Tawfiq al-Amir. Activists said he was freed two days later.
Activists have called for a nationwide "Day of Rage" on March 11, and a Facebook Inc. page advocating the plan has more than 30,000 followers. The kingdom's Council of Senior Islamic Scholars this week condemned protests as forbidden, and the Interior Ministry warned that demonstrations, marches and sit- ins are "strictly" prohibited.