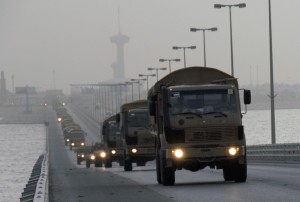 Sources said yesterday that Saudi Arabia had sent it's security forces into Bahraini territory in order to suppress the pro democracy demonstrations. The numbers of those injured and killed by riot police has increased substantially, especially since internationally banned weapons were used. At least three people were killed and more than a dozen injured.
Many Saudi military vehicles were seen crossing the King Fahad Causeway, which connects Bahrain to Saudi Arabia.
Thousands of demonstrators have gathered in the capital Manama, in the Pearl Roundabout. They renamed the Roundabout to Martyrs Square.
Some Bahraini websites said that the Bahraini authorities had cut the internet service from most parts of the country, especially those areas that held demonstrations. Facebook seems to be working as normal.