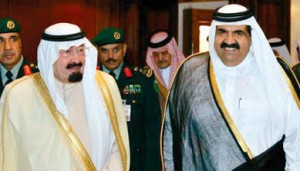 The political landscape in the Gulf has quickly changed since the outbreak of the Arab revolutions. These developments have lead to the collapse of old alliances and  changes in the geopolitical map. Friendships are no longer the same. Yesterday's friend is now a bitter enemy, and yesterday's enemy is now a friend.
The conditions today will lead to dramatic changes in the future, and will result in a new political alignment. There is an obvious psychological rift growing between the people and their governments.
In the past few weeks, there were signs of a political alliance between Qatar and Saudi Arabia with regards to the revolutions in Libya, Yemen, Bahrain and protests in Syria. The Qatari Foreign Minister Hamad bin Jassim bin Jaber Al Thani, was given power to influence the Libyan revolution on behalf of Saudi Arabia. The Saudi Foreign Minister Prince Saud al-Faisal on the other hand was given power to influence the Yemeni revolution, for some unknown reason.
The Gulf dictators are playing a central role in countering revolutions with the help and support of both the United States and Europe. The Abu Dhabi conference had participants from the UN Security Council and the Gulf Cooperation Council in order to discuss a post-Saleh Yemen. There were also extensive discussions regarding techniques that could be used to counter any possible revolution in the Gulf States.
Fear of change has lead to an alliance between Doha, Riyadh, and all the other GCC countries. The hostility between Doha and Damascus is a feature of this new geopolitical landscape.
The high level co-ordination between Riyadh and Doha aims to kill the Arab revolutions. This alliance should be countered by setting up a "democracy club", which would isolate these Gulf dictatorships.