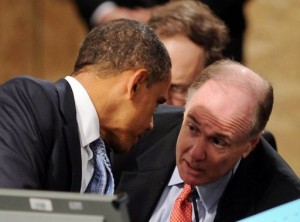 US President Barack Obama is sending a foreign policy aide to key Gulf allies Saudi Arabia and the United Arab Emirates this week amid concern over the turmoil sweeping the Middle East.
National Security Advisor Tom Donilon will leave on Monday on a three-day trip during which he will meet Saudi King Abdullah in Riyadh and Crown Prince Sheikh Mohammed bin Zayed al-Nahayan in Abu Dhabi, the White House said.
"The National Security Advisor's visit underscores the importance of our relationship with these two key partners," a written statement said.
Saudi Arabia's intervention last month in Bahrain amid Shiite-led opposition violence has exposed festering political differences between Riyadh and the United States over the revolts rocking the Arab world.
US Secretary of Defense Robert Gates held talks in Riyadh on Wednesday with King Abdullah, with both sides concerned as well by Iranian intentions in the region and spiraling unrest in Yemen.
Boosted by the arrival of a Saudi-led Gulf forces contingent, Bahraini security forces smashed a month-old protest mid-March in central Manama by Shiites, leaving three protesters and two police dead.
The surprise Saudi decision to lead a regional mission into the strife-torn and strategic kingdom ruled by a Sunni minority also reflected the deep shadow cast by Iran in the instability testing US-allied leaders across the Gulf.
Washington appeared to have had little if any advance notice of what was a potentially embarrassing move for the United States, which has led a prolonged effort to prod Bahrain towards political reforms.
Saudi Arabia and other Gulf Arab states have traded accusations with Iran of meddling and interference, especially over Bahrain, which lies off the eastern Saudi coast and is home to the US Fifth Fleet.
"We already have evidence that the Iranians are trying to exploit the situation in Bahrain and we also have evidence that they're talking about what they can do to create problems elsewhere," Gates said after Wednesday's meeting in Riyadh.
King Abdullah's return home in February after months of treatment abroad for a back ailment came amid mounting international anger over bloodshed in the kingdom's southern neighbor Yemen.
Yemeni President Ali Abdullah Saleh, a close US and Saudi ally, has faced months of protests calling for his departure, in which around 125 people have been killed.
Dozens of anti-regime demonstrators were shot Sunday in the latest clashes with security forces, sparking charges of "massacre," as Yemen's worried Gulf neighbors gathered in Riyadh to work out a transition plan.
The United States announced last year that it plans to offer Saudi Arabia $60 billion worth of hi-tech fighter jets and helicopters, in the largest US arms deal ever.