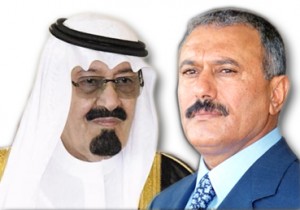 Ali Abdullah Saleh begs Saudis to mediate on his behalf.
Sources close to the Saudi King said that Ali Abdullah Saleh had sent his Foreign Minister, Abu Bakr Al Qurbi to Riyadh on the 21st of March, begging the Saudis to meditate between Saleh and the protestors. Analysts believe that protests have entered their final stage and that Ali Saleh's regime is close to collapsing.
Sources also added that the Yemeni President wanted Saudi Arabia to mediate with tribal leaders, leaders of the Southern Movement and military leaders, so that he can see out the remaining 6 months of his tenure. The Southern movement swiftly replied that negotiations should take place directly with the protestors who have no political affiliation, and hence no opposition party can claim to represent them.
Yemeni analysts warned Saudi Arabia of sending military equipment to help Ali Saleh. Any help would anger the Yemeni revolutionaries, and would make saudi mediation nearly impossible.
Saleh had sent a letter to the Saudi leadership via his Foregin minster begging for support, which was rejected. The Yemeni delegation got the impression that Saudi Arabia was incapable of mediating in this critical time.