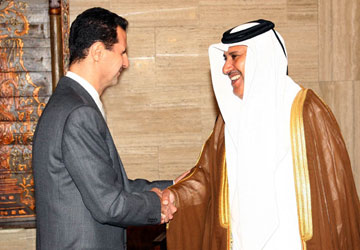 Syrian President Bashar Al-Assad reacts to Qatari threats by refusing to meet with the Qatari Foreign Minister.
According to semi official Syrian sources, the Qatari Foreign Minister Sheikh Hamad bin Jassim bin Jabr Al-Thani, informed the Syrian leadership that "Bahrain is equal to Syria". Hence, any protests taking place in Bahrain would be countered by a large scale campaign of incitement against the Syrian regime by Al Jazeera and Al Arabiya TV channels.
Syrian officials believe that Qatar has changed its political position and adopted a policy that is more in line with Saudi Arabia. They believe that the change was brought about by an internal struggle inside the Qatari ruling family.
The Syrian leadership is trying to repair the damage caused by the protests. Leading Syrian officials believe that there is a high level of coordination between the GCC Governments, Isreal and the United States. All three parties want to sabotage the political situation in Syria, as a first step to overthrowing the regime.
The Syrian leadership realized weeks ago that the Qatari Foreign Minister had became the broker for opportunistic trade-offs in the region, which prompted a firm response.
The sectarian tendencies of  the Saudi and Qatari officials lead to annulment of the meeting between the Syrian President and the Qatari Minister in Damascus. President Assad will not meet with any official until the threats stop.