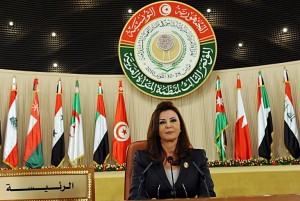 Tunisia on Monday formally asked Saudi Arabia to extradite the wife of ousted strongman Zine El Abidine Ben Ali and took steps to dissolve his ruling party as protests continued against the struggling caretaker government.
Authorities "have made an official request to Saudi authorities through diplomatic channels for the extradition of Leila Trabelsi, the wife of the ousted president," state TAP news agency said, quoting the foreign ministry.
Tunis has already asked Riyadh to extradite 74-year-old Ben Ali for his involvement "in several serious crimes aimed at perpetrating and inciting voluntary homicide and sowing discord" among Tunisians.
Ben Ali and his family fled to Saudi Arabia on January 14 after an unprecedented popular uprising. He was reported last week to have fallen into a coma after suffering a stroke and was being treated in a hospital in Jeddah.
The European Union decided earlier this month to freeze the assets of 46 members of his entourage.
A former hairdresser, Trabelsi is accused of pillaging the country through endemic corruption, putting family members in key government and lucrative business posts.
Interior Minister Farhat Rajhi announced that he had officially requested to dissolve Ben Ali's powerful Constitutional Democratic Rally (RCD) party, two weeks after suspending its activities and closing its offices.
Despite its seemingly perennial power, the RCD, founded in 1988 by Ben Ali, had a tiny membership of some two million, roughly a fifth of the population.
And while the revolution forced out the former president, the caretaker government of Prime Minister Mohamed Ghannouchi continues to face protests by angry demonstrators demanding to root out vestiges of the old regime.
About one thousand protesters, mostly students, Monday rallied for a second day in Tunis against what they called the "hypocrites" in the transitional government.
"We want the government to fall. Ghannouchi and his ministers want to stay beyond the period of transition," said on student organisaer Ali Amdouni.
Ghannouchi was prime minister under Ben Ali for over a decade since 1999.
On January 17, he took the reins of a transitional government of national unity, which included many ministers who were part of the old regime.
The authorities have appointed a panel to prepare free elections due in six months while several opposition parties have demanded the election of a constituent assembly to write a new constitution.
Meanwhile Tunisian authorities on Monday arrested the suspected killer of a Polish priest who was found with his throat slit last week, which had raised fears extremists could be behind the murder, TAP reported.
Police arrested Chokri Ben Mustapha Bel-Sadek El-Mestiri, 43, a carpenter who worked at the same religious school where the priest Marek Rybinski was employed as accountant, TAP said, citing the interior ministry.
Rybinski was found dead on Friday, provoking condemnation from the transitional government and the main Islamist opposition group Ennahda (Awakening).
Authorities originally attributed the murder to extremists based "on the way" the priest was attacked.