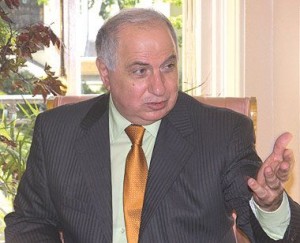 Ahmed Chalabi, the prominent Iraqi politician has warned that the crisis in Bahrain could result in a regional conflict. He also said that Iraq will not remain silent at the unfolding events in Bahrain and that Iraqis are ready to support the people of Bahrain.
Chalabi warned of a big regional conflict, which would have a historic effect on Bahraini political life. He added: we are looking for solutions that would avoid bloodshed, we need to find a solution, otherwise this problem could ignite a big regional war. We are part of the solution and not part of the problem. We put forward progressive ideas that do not involve war.
Chalabi threatened the Bahraini Government by saying: Iraq will not remain silent or ignore the persecution of the Bahraini people who are using peaceful means to achieve a democratic constitution. Chalabi also added: what's happening in Bahrain is an important matter for Iraq because Iraq is the largest country in the Gulf, and because of the cultural, historic and religious links between the two people.
Chalabi, who is a contender for the Interior Minister position in Iraq added: those who think that Iraq is unable to undertake it's role are mistaken. Iraq is ready to support Bahrain and has many means of doing so. Chalabi also called for supporting the 14th of February Youth Movement in Bahrain, the chief organiser of the Bahraini revolution.
The Head of the Iraqi National Congress stressed that: Iraq supports the Youth's popular revolution in Bahrain, regardless of the position of the Arab league, who's position is hypocritical. The Arab League called for intervention in Libya in order to protect the civilians but remained silent at the events in Bahrain. The Arab League also referred Bahraini revolutionaries as Hoolgans, however Chalabi preferred to described them as "authenic revolutionaries who are seeking freedom and are using peaceful means to gain their political rights."